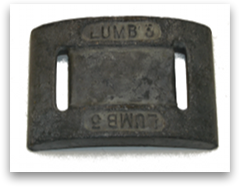 Lead products are use for many different purposes. For
radiation shielding
to protect the human body against the negative effects of x-ray. As
Ballast weight
in curtains, boats and fork lifts. And lead products like shot, wire and solder. Every product made of lead has it's own specific requirements.


"Buy lead products directly from the lead products manufacturers. Choose your lead product, fill in the form and receive multiple offers now."

For radiation shielding purposes lead is the perfect material. All lead shielding products contain the big advantages lead has. High density, low absorption and extremely moldable. Lead shielding products are used in many different industries. From
...>>

Lead ballast comes in many different shapes. Balls, bars, blocks, casted, you can name it. As long as the required lead ballast shape fulfills the customers need it can be produced. Lead ballast is mainly used in the off-shore industry as
...>>

Special lead products deserve a special page. Because lead comes in many different products it's not possible to fit them all into a certain specific market. The special lead products available are
...>>

Are you a manufacturer or supplier of lead products? Visit our
lead suppliers
page to get in touch with us.
Lead for Lead - Your key to the lead metal industry