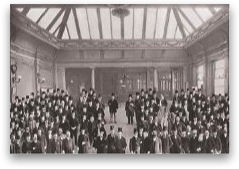 Lead for Lead provides you information about the lead prices as well as LME lead price and LME Lead Stock. Just like oil, sugar and of course the other non ferro metals copper, zinc, tin, etc Lead has to deal with daily fluctuating prices. Prices which can go up or down with even 10% per day. A lot of money can be lost or earned with these price movements but a lot of companies choose to cover their metal prices and make profit out of their own added value. The LME provides the hedging service for price risk management of non ferrous metals.


"For more info or on-line LME prices distributors just choose one of the lead price related topics below."
What is happening with the lead price?
The last decade was quite a roller coaster if we talk about the lead price. From being stuck at USD 500.=/mt the first three years the lead price reached the highest level ever of USD 4000,=/mt in early 2008. A weaker USD, hedging funds entering the metals market, China's
...>>
lme lead prices
LME - London Metal Exchange

For all information about the LME lead price, lead stocks, historical lead prices and lead price hedging courses go to the special lead price page of the London Metal Exchange (LME)...>>
website LME
Lead for Lead - Your key to the lead metal industry