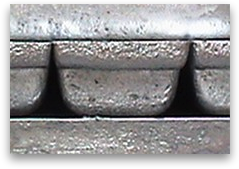 (99,99% PB)

Also known as primary lead ingots. This is the purest lead quality made by lead ingot manufacturers which produce lead out of lead ores. The main difference between pure lead ingots and
refined lead ingots
is the origin of the raw material. Pure lead ingots are used by the chemical and nuclear industry which need this very high quality of lead.
Packing

Packed on a pallet and sealed with plastic foil or stripped with plastic strips without a pallet

Sizes, weight per ingot, upon customer specification.


Minimum order quantity
: 10.000 kg

Receive offers from Pure Lead Ingots Suppliers now!
Lead for Lead - Your key to the lead metal industry